FREE NEXT DAY DELIVERY IN THE UK
Are you looking for a long-lasting solution to protect your boat engine? At Outboard Armour, we specialise in providing the UK population with the best-quality outboard covers money can buy. We work with major boating brands such as Yamaha, Suzuki, Mercury, Tohatsu and Selva offering a host of solutions for engines of all sizes.

Our customised outboard covers can be emblazoned with your own design, letting you add some personality to your boat. All you need to do is browse through our stock, find your boat engine and pick the perfect cover for it.
shop for a vented

outboard


engine cover
Explore

the newest


products
We're just like you, we had a dream to combine our careers and experience with our passions and our hobbies. We bring Marine Engineering, Textile design and Manufacture, together with a lifelong passion for boating and the sea. Our main drive is to bring market leading fabric and design solutions to everyday boating problems. We're customer driven, in that our friends, families and networks asked us to use our expertise to do this…
Why DO
YOU NEED

AN OUTBOARD COVER
Your boat is a big investment. Consequently, you want to take good care of it, ensuring that it lasts for as long as possible. With an outboard engine, you have something that's constantly exposed to different threats. It can be affected by extremely cold weather, ropes, accidental damage and so on. Over time, this engine can suffer too much stress and break, leading to costly repairs.
Outboard covers are specifically designed to prevent this. They offer protection against any physical threats while your boat is moored. We even supply vented outboard covers that can stay on while the engine is running. The unique ventilated style allows for heat to escape, avoiding overheating while keeping your outboard engine protected 24/7.

Thanks to the additional protection, your outboard engine will:
• Avoid damages
• Cost less money to maintain
• Remain in a good condition for longer
WHY BUY
OUTBOARD COVERS

FROM US?
It's extremely important that you purchase high-quality outboard covers for your boat. Our main passion is to bring market-leading fabric and design solutions to everyday boating problems. As such, every single outboard cover we sell is made from the best quality materials. They are rigorously tested to ensure they are as durable as possible. Put simply, you get a product that protects your engine and will last the test of time. We are confident that one singular cover can last for many years before it should be replaced!
Moreover, we can offer the following for all of our customers:
• Free Next-Day Delivery in the UK
• Customised Outboard Covers
• Excellent Customer Service
We work closely with the biggest brands in boating to guarantee that you will find a cover that fits your outboard engine. As such, we can provide Yamaha outboard covers, Suzuki outboard covers, Mercury outboard covers and many other top engine manufacturers.
Whether you want regular or vented outboard covers, we've got everything you need on our website. All you have to do is visit our shop and select the brand that corresponds to your engine. From here, you'll see all the various products and can pick one that fits your specific outboard engine. Then, it's as simple as placing your order and waiting for it to arrive. For customised outboard covers, you'll need to fill in a form with your details and upload a file showing the design you want to be printed.
Feel free to get in touch with us for more information or if you have any queries!
Premium Outboard Engine Propeller Bag for 50-200 HP
Abrasion resistant Polyester fabric, waterproof, breathable material, incorporating a drainage hole at base of cover.
UV resistance guaranteed for 12 months.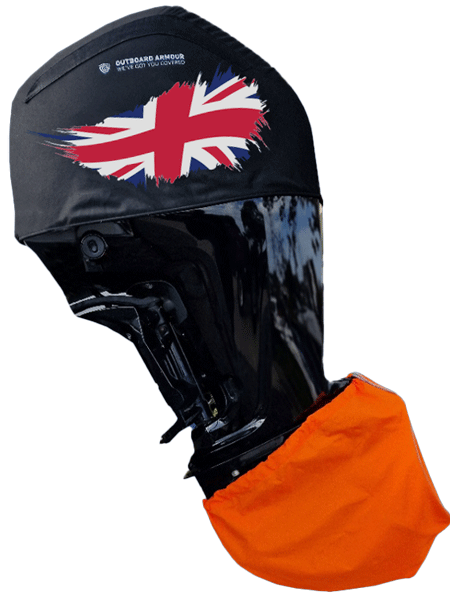 It fits, it works, and it protects. 'We've got you covered'.